Govt Jobs 2020
Latest Govt Jobs in India 2020 for central, states and union territories announced for candidates across all India.
Last Updated: July 09, 2020
Government Jobs in India 2020
Latest (All) | Central Govt | By State
Browse latest Govt Jobs 2020 in India with list of all current Government jobs opportunities under Central Government of India, 29 states and seven union territories. Here all Government Jobs in India are posted at one place on RecruitmentAlerts for convenience of job seekers across India in an easily accessible manner. The Govt Jobs, recruitment and training opportunities here are from major Govt Departments, Ministries and state-owned organizations posted through their official websites, Public Service Commissions (PSC), Staff Selection Commission (SSC) and other organizations where you can apply online to government latest vacancies or submit your resume/cv to appropriate department.
Below is the complete list of all Government jobs in India for the current year where you can find information on how you can apply and register for various opportunities. Use the search filter to search for India Government jobs by qualification, skills, education or job title in major Indian cities.
Latest Govt Jobs (Central & States)
Last Updated @ 2nd July 2020
Here's the list of all latest Govt Jobs in India by Central and State governments. The jobs list is divided by vacancies notifications by the Central Government and State Governments which are further sorted by date posted (featured on top). This page is updated daily when new notifications are issued.
Featured / Trending Govt Jobs 2020-21
Govt Jobs Posted on 2nd July 2020
Govt Jobs Posted on 1st July 2020
Govt Jobs Posted on 30th June 2020
Govt Jobs Posted on 27th June 2020
Govt Jobs Posted on 26th June 2020
Govt Jobs Posted on 25th June 2020
Govt Jobs Posted on 24th June 2020
Govt Jobs Posted on 23rd June 2020
Govt Jobs Posted on 20th/21st June 2020
Govt Jobs Posted on 19th June 2020
Govt Jobs Posted on 18th June 2020
Govt Jobs Posted on 17th June 2020
Govt Jobs Posted on 16th June 2020
Govt Jobs Posted on 15th June 2020
Govt Jobs Posted on 13th / 14th June 2020
Govt Jobs Posted on 11th / 12th June 2020
Govt Jobs Posted on 10th June 2020
Govt Jobs Posted on 9th June 2020
Govt Jobs Posted on 8th June 2020
Govt Jobs Posted on 6th June 2020 & Before
| | | |
| --- | --- | --- |
| Rajiv Gandhi Institute of Petroleum Technology (RGIPT) | 19+ Assistants, Technicians & Superintendents | 15th July 2020 |
| Jharkhand Public Service Commission (JPSC) | 14+ Non-Teaching Officers | 30th June 2020 |
| Punjab Public Service Commission (PPSC) | Civil Services Combined Competitive Exam 2020 for 77+ Officers, Registrars, Superintendents & Other | 30th June 2020 |
| Directorate of Plant Protection, Quarantine & Storage Faridabad | 175+ Technical Officers | 12th June 2020 |
| Chhattisgarh Public Service Commission (CGPSC) | 32+ Civil Judge (Entry Level) Vacancies | 15th June 2020 |
| Power Grid Corporation of India Ltd (PGCIL) | 125+ Apprentice Trainees | 26th June 2020 |
| Electronics Corporation of India Limited (ECIL) | 70+ Technical Officers | 12th June 2020 |
| Bihar Public Service Commission (BPSC) | 20+ Mineral Development Officers (MDO) | 12th June 2020 |
| CDAC Mohali Recruitment 2020 | 13+ Project Engineer & Project Manager | 15th June 2020 |
| NHM Chhattisgarh Recruitment | 800+ Community Health Officer (CHO) Vacancies | 12th June 2020 |
| National Aluminium Company Limited (NALCO) | 12+ Management Trainee & Assistant Manager Vacancies | 15th June 2020 |
| Hindustan Aeronautics Limited (HAL) | Diploma Technicians | 30th June 2020 |
| Indian Army Rally 2020-21 | 1000+ Soldiers and Sepoy vacancies | 16th July 2020 |
| JK Bank Recruitment 2020 | 1850+ Banking Associates & Probationary Officers Vacancies | 30th August 2020 |
| Rajasthan University of Health Sciences | 2000+ Medical Officer (MO) Vacancies | 30th June 2020 |
| National Aluminium Company Limited (NACL) | 120+ Graduate Engineer Trainee (GET) | 15th June 2020 |
| Oil India Limited (OIL) | 10+ Sr. Assistant, Jr. Assistant, Hindi Translator & Hindi Typist Posts | 1st July 2020 |
| Bharat Electronics Limited (BEL) | Management Trainees (Finance) | 13th June 2020 |
| Electronics Corporation of India Limited (ECIL) | 12+ Technical Officers Vacancies | 22nd June 2020 |
| Rajasthan PSC School Recruitment | 22+ School Lecturers | 7th July 2020 |
| Neyveli Lignite Corporation (NLC) Limited | 259+ Graduate Executive Trainee (GET) Vacancies | 14th June 2020 |
| Securities and Exchange Board of India (SEBI) | 147+ Assistant Managers (Officer Grade-A) (Multiple Departments) | 31st July 2020 |
| UGCNET 2020 Notification | National Testing Agency UGC National Eligibility Test (UGC-NET) | 15th June 2020 |
| THDC India Limited | 14+ Executive Trainee (ET) Vacancies | 30th June 2020 |
| SSB Odisha Recruitment | 136+ Junior Assistant & Jr Stenographer Vacancies | 30th June 2020 |
| Indian Oil Corporation Limited (IOCL) | 404+ Trade & Technician Apprentice Posts | 18th June 2020 |
| Uranium Corporation of India (UCIL) | 136+ Mining Mate, Apprentice & Other Vacancies | 22nd June 2020 |
| Aravali Power Company Private Ltd (APCPL) | 25+ Engineering Executive Trainees | 3rd July 2020 |
| Cochin Shipyard Recruitment | 6+ Project Assistants | 20th June 2020 |
| Assam Police Recruitment 2020 | 1080+ Stenographers, Forest Guards, Surveyors, Foresters, Drivers & Other | 25th June 2020 |
| Karnataka State Police | 1449+ Armed Police Constable | 22nd June 2020 |
| Indian Oil Corporation Limited (IOCL) | 600+ Trade Apprentice Posts | 21st June 2020 |
| Kerala Police Recruitment | 125+ SSLC Passed / Police Constable Vacancies | 24th June 2020 |
| National Fertilizers Limited | 52+ Engineer & Manager Vacancies | 30th June 2020 |
| Indira Gandhi Agricultural University | 36+ Lab Technician, Assistant & Field Extension Officer Vacancies | 30th June 2020 |
| IIT Goa Recruitment 2020 | 11+ Junior Assistant, Junior Superintendent & Various Vacancy | 30th June 2020 |
| Karnataka State Police | 162+ Sub Inspectors Vacancies | 26th June 2020 |
| National Highways Authority of India (NHAI) | 48+ Deputy Managers (Technical) | 15th June 2020 |
Major Recruitment Boards in India
The government jobs in India are made available through various recruitment boards, commissions and organizations. Nationwide competitive examinations are conducted by Union Public Service Commission (UPSC), State PSC, Staff Selection Commission (SSC), Railway Recruitment Board, Defence, Joint Employment Test (JET) and other organizations. Aspirants looking to get Govt job in India must prepare and pass the required examination before the follow-up interviews and final selection.
Not all Government jobs require to pass a specific examination. For example, central and state government organizations also announce jobs notifications for staff recruitment at various offices with straight-forward requirements of certain age, educational qualification and at times specific physical standards. Aspirants can apply to these govt jobs either online or offline depending on the organization's human resource (HR) policy.
Sarkari Naukri / Results / Admit Card
In addition to the most up-to-date and comprehensive coverage of all Government jobs here, the Recruitment Alerts is your ultimate destination for all Sarkari Naukri alerts along with Sarkari Results and Admit Card. To check Govt jobs result and admit card notifications, simply visit the organization page (listed above) and look for details about result announcement and admit card dates. The team here has put a great effort into organizing all related information at one place for candidates might be interested to check out results and admit cards.
Current Jobs Market (Labour Force Participation Rate vs Unemployment) in India
The Indian workforce is huge with over 49%+ Labour Force Participation Rate (the participation rate measures the percentage of Indians who are in the labour force). On the other hand, the unemployment rate (this rate measures the percentage within the labour force that is currently without a job) in India is 5.36*. The unemployment rate is updated every year. The rate reached an all-time high of 5.72 % in Dec 2003 and a record low of 5.28 % in Dec 2008**. The following graph/chart shows latest labour market data showing currently employed & unemployed with other important economic and demographic indicators.
*The Unemployment rate data collected 2019.
**As per World Bank data.
India has one of the most diverse workforce operating in variety of industries and sectors. Agriculture & allied activities have the highest number of labour at work with over 56% workers overall. Manufacturing sector has 13%, Wholesale/Retail has around 10% while construction, financial, real estate, business activities and other services make for over 25% of the total workforce in India***.
***As per Censusindia.gov.in data.
The jobs market in India is also very huge providing great opportunities for the educated youth. Both private and government jobs are announced on daily basis across all major cities. The Government of India plays an important role for transforming India's economy and society by creating jobs, fueling innovation and furthering investment in health and education. The entry to govt jobs can be either directly to various organizations or through government examination for specific posts. Internship and on site vocational training for unemployed youth is one other way for an entry into the job market.
Why Recruitment Alerts?
We believe we have in-depth coverage related to Govt jobs including employment news, government exams, exam syllabus, Sarkari Naukri, admit card and Sarkari results. Our timely and quick updates make Recruitmentalerts.com one of the best resource in 2020 for aspirants looking to apply to govt jobs in India. You can get all latest recruitment notifications as soon as they are released. On top of that, you can get updates for all exams, syllabus, admit card and results at one place here.
States vs Central Govt in India
The central government of India or the Bharat Sarkar is the legislative, executive and judicial authority of all union states and territories. The jobs announced by the central government are usually open merit with quota from all around India. Since anyone can apply to these vacancies, they are the most sought after jobs in India. Each year, the central govt of India announces hundreds of thousands jobs in 100+ departments, ministries and government organizations. The placement for these vacancies can either be in Delhi, since Delhi is the capital, or at various subordinate offices spread across India.
On the other hand, state governments along with union territories have their own bodies and boards for which they recruit as per their own needs. These recruitment are mostly independent from the central government because the budget allocation and resources are specifically provided by state and union governments. India is a federal union comprising 28 states and 8 union territories, for a total of 36 entities. The states and union territories are further subdivided into districts and smaller administrative divisions.
India's States & Union Territories List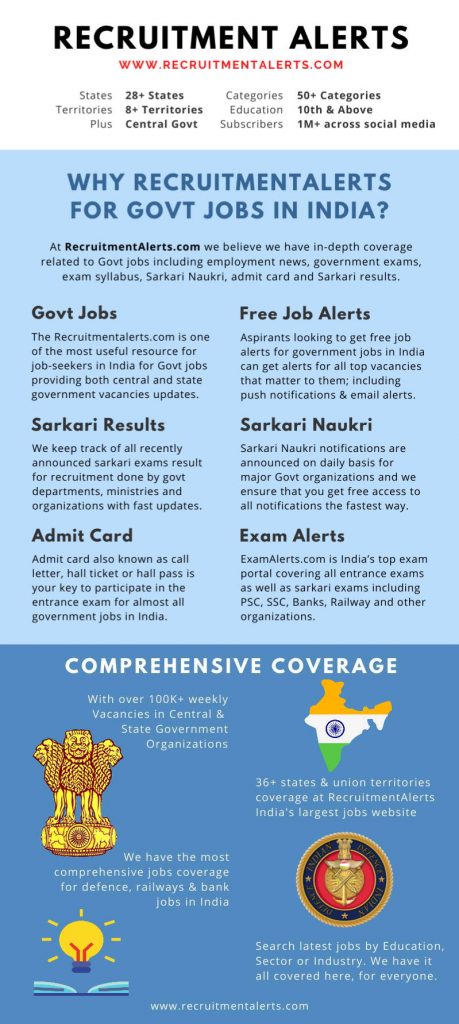 Apply to Govt Jobs in India – FAQs
Applying to Govt jobs in India is not very hard because all you need is required documents and the application fee handy to apply which in some cases may take not more than 10 minutes (that is if you believe you have the required qualification and experience). Many Government organizations allow aspirants to apply online now making it very convenient to save time and money. You must be careful when submitting the application (both online or offline), you do not want to commit mistake that may cost you the vacancy altogether. Each job notification has details for the required educational and experience requirement but generally below are some key points you need to keep in mind:
How to Apply for Govt Jobs
Each notification has "Apply Online" link (or Application form that you can download)
Fill out the form with your details (Name, DOB, Father Name, Gender etc) (You may need to register before accessing online application)
Scan the Required Documents and Upload
Upload Passport Size Photograph
Pay the required Application Fee (Offline or Online as required)
Submit the Online Application (Or send the application form to given address in case of offline apply)
Required Documents to Apply for Government Jobs
Passport Size Photograph
Computer Generated Signature
Working Email Id and Phone Number
Mark Lists of all academic qualifications.
Government Id Proof.
Cast Certificate (If belongs to reserved category)
Can I apply to Govt jobs with my Education?
Anyone qualified and having the following education credentials can apply to Govt jobs in India. Required qualification includes 8th Pass, 10th Pass, 12th Pass, Diploma Holders, Graduates (Bachelor Degrees), Post Graduates (Master Degrees) and Doctoral studies. Some vacancies also require educational certificates or special courses which are usually mentioned in job notifications.
What is the full form of SC, ST, OBC,  UR, EWS?
These are the caste divisions used in the government to allocate seats for these caste peoples. You may see the table with category-wise details, break-down of total number of posts and seats allocation for Government jobs listed here. The full forms of SC, ST, OBC,  UR, EWS are:
SC – Schedule Caste
ST – Schedule Tribes
OBC – Other Backward Classes
UR – Unreserved category
EWS – Economically Weaker Sections
How to get free Govt job alerts?
If you are interested to get daily and weekly updates for railway recruitment, you may subscribe to our website in various ways. We recommend you subscribe to browser notifications where you can get push notifications both on laptop/pc as well as mobile phones. Alternative you can subscribe to our free newsletter where you can get email alerts. See the subscription box below. Please verify in your inbox once you subscribe to make sure you never miss an update from us.
Learn more about Government jobs / References:
Census India Economic Activity: https://censusindia.gov.in
Labour Market Data at https://www.ceicdata.com
Have a question? Ask away at Govt jobs (Quora)
Follow our Govt jobs blog to get jobs insights
See what's trending on Facebook | Twitter for govt jobs updates